A Natural Partnership
For over a decade, Dr. David Horn's biology classes at Millikin University have assisted the Macon County Conservation District with various natural resources projects, totaling well over 1,000 volunteer hours. This partnership with Millikin has been important for both the students and MCCD. While the Conservation District gets hands-on help for projects that would otherwise not get completed, the students get realworld experience, which Horn says better prepares them for their professional careers.
"At Millikin University, we emphasize both theory and practice," Horn said. "Ecological principles can be taught in the classroom and those concepts can be applied by working on projects that make our students better while simultaneously improving our local natural areas. Rather than talk about the natural world in the classroom, students should experience it outside the classroom."
Projects that Millikin students have helped with include collecting and cleaning native prairie seed, fence removal, stream cleanup, invasive species removal, tree and prairie plantings, tree measuring, and other miscellaneous tasks. We incorporate these classes into our existing work schedule to not only assist with current projects, but to demonstrate how our job changes with the seasons. I think students find that aspect of our job in the conservation field appealing.
According to Horn, "Students in my courses love working with the MCCD to improve our local environment. While most of Millikin's biology majors will not have careers in ecological fields, work at the District provides them with a better perspective of our natural world and how individuals can work with local organizations to make a difference."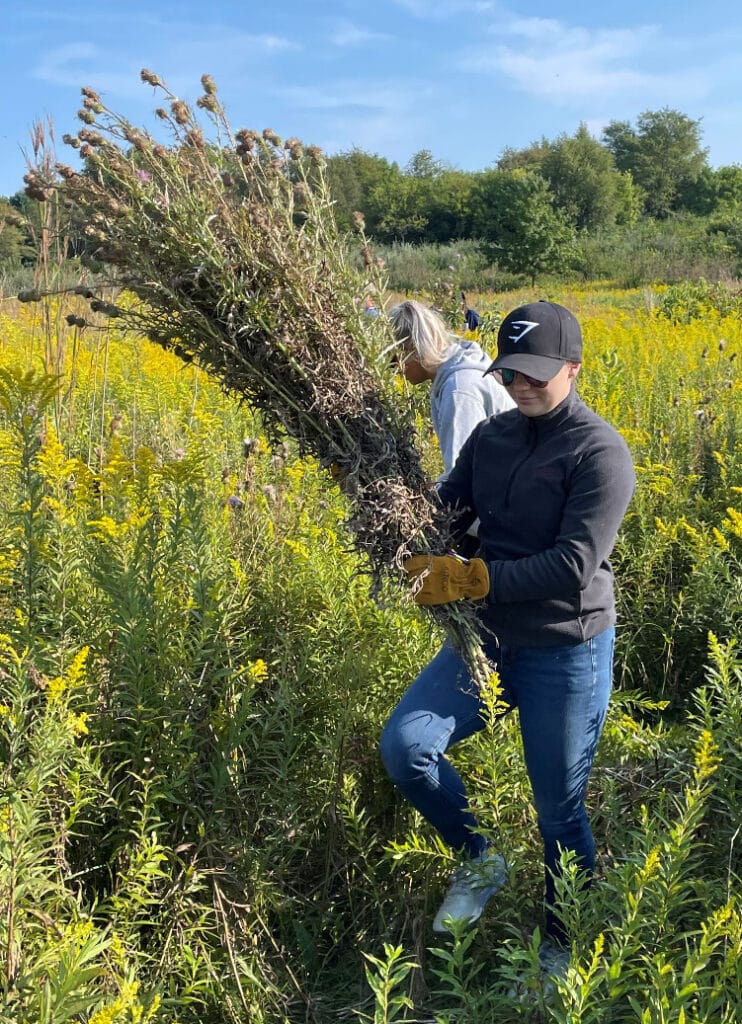 Thistle removal at
Griswold Conservation Area.
While some workdays are onetime experiences and forgotten, such as fence removal, others such as tree and prairie plantings will be around for generations to enjoy. Horn often jokes with his students that they can come back for their 25-year reunion and visit the forest and prairies they helped plant. While most students' laugh at the joke, there's an important message behind this – they are creating something that will outlast them and benefit generations to come.
by Ethan Snively