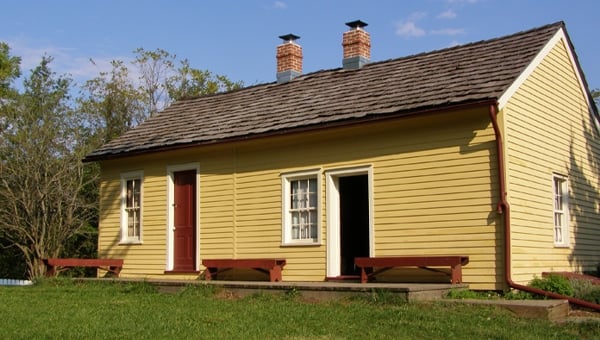 Homestead Prairie Farm at Rock Springs Conservation Area
Explore rural life on the Illinois Grand Prairie in 1860. Listed on the National Register of Historic Places, Homestead Prairie Farm is built around the Trobaugh-Good House at Rock Springs Conservation Area.
Homestead Prairie Farm is part of the Rock Springs Conservation Area.
Originally constructed by an unknown builder around 1850 as a one room log house, its name comes from the first two families who lived there.
Joseph Trobaugh from Tennessee, his wife Elizabeth born in Illinois and their family were the first known occupants of the house. They owned it from 1853 to 1866. Trobaugh was a farmer and sawmill operator. He changed the house by adding rooms and making other renovations.
Emanuel Good, a Civil War veteran, along with his wife and children were the second family to live there. The Goods owned the house from 1866 to 1903, selling it one year after Emanuel's death.
Today the house is furnished to reflect the lifestyle of the Trobaughs, their boarders, hired hands, and neighbors in 1860, whose lives were being affected by the important changes sweeping the nation in the last years before the US Civil War.
Tours & Programs
Free tours are offered Saturdays and Sundays in June-October from 1pm-4pm. Special tours and programs may be scheduled by appointment at other times for students or various groups. Call 217-423-7708 for further information.
Photos of Homestead Prairie Farm