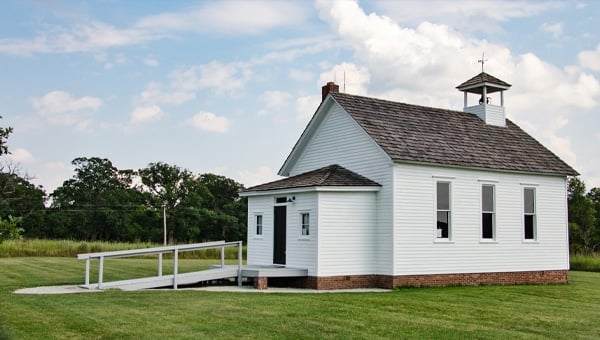 Bethel School at Friends Creek Conservation Area
Step back in time in a one room country school. Historic Bethel School is part of the Friends Creek Conservation Area. Bethel School at Friends Creek Conservation Area is 4.5 miles from Argenta, IL.
Bethel School is open for free tours from 1:00pm to 4:00pm on the first Saturday of each month from May through October. Programs may be scheduled by appointment at other times for students or various groups. Call (217) 423-7708 for further information.
The name "Bethel School" has a long history in Friends Creek Township. The first Bethel School, built in the 1850s in Section 7 of the township, was a log structure. In 1901 with a donation of land from John Brown, the current Bethel School was built in Section 8.
The surviving school, now a museum, served neighborhood students and the local community for at least 45 years, until it closed in 1946. This was part of a statewide trend in the 1940s and 1950s, during which most one room schools in Macon County closed and students transferred to larger schools. Sam Kohler purchased Bethel School and moved to his property about a mile south, and used it as an implement and tool shed.
After the Macon County Conservation District purchased his property in 1969, the school was moved once more in 1982: a short distance to its present location as part of Friends Creek Conservation Area. From 1982 to 1985, several donors including the Winings Trust along with dedicated volunteers and staff restored the building to its current appearance.
Getting to Bethel School
Bethel School is accessible by three different routes from Decatur. First, turn off U.S. Highway 51 and go east for 9 miles along County Highway 18 (also known as East School Road) then turn north onto Friends Creek Park Road. You can also take Illinois Highway 48 through Oreana and Argenta, and then turn north onto Friends Creek Park Road. It is also accessible from Interstate 72. Take Exit 156 and follow signs to Friends Creek Park Road.