Macon County Conservation District Volunteer Opportunities
Every year, hundreds of volunteers make an invaluable contribution to the operation of Macon County's conservation areas and historic sites. Whether greeting visitors or assisting with programs, our volunteers help the Conservation District serve the residents of Macon County.
"If you ever wanted to help make a difference in our community there are opportunities for you with the Macon County Conservation District."
Volunteers are people like you who help maintain over 3,300 acres of natural areas and offer hundreds of school programs, special events, hikes, and weekend programs throughout the year across all of Macon County, Illinois.  You'll find indoor and outdoor opportunities available year-round.
Taking the Step to Volunteer
Volunteers are essential to the Conservation District and its mission. In 2019, a total of 471 volunteers donated over 10,700 hours. We invite you to join the team!
If you have any questions, call (217) 423-7708 or email [email protected].
How You Can Help at the Macon County Conservation District
Quicklinks
Natural Area Restoration
Opportunities Available All Year Round
Volunteers are needed to assist in the removal of invasive species from District areas and help protect wildlife diversity. There are many opportunities available, some of which include prescribed burning, removing fencing, and removing bush honeysuckle. For more information, contact Ethan Snively at 217-423-6796 or [email protected].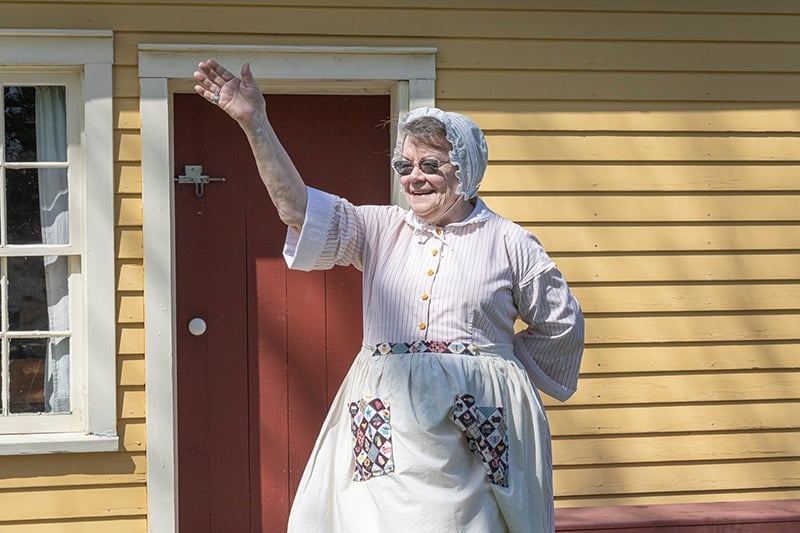 Homestead Prairie Farm Volunteers
Rock Springs Conservation Area
Saturdays and Sundays, June through October, from 1-4pm
Homestead Prairie Farm is a historic treasure that links us to our past. Young and old are amazed as they step back into time and learn about our local history. On the weekends, staff, volunteers, and guest presenters provide programs and tours to bring this historic home to life. If you love history, we would love to have you join us! For more information, contact Brent Wielt at 217-423-7708 or [email protected].
Rock Springs Nature Center
Rock Springs Nature Center offers indoor and outdoor volunteer opportunities. Some activities include:
Information Desk
Information Desk Volunteers are an essential part of the Nature Center. Volunteers stationed at the Information Desk inside the Nature Center greet patrons, answer questions, and assist staff with projects. Morning and afternoon shifts are available every day of the week. Training provided.
Newsletter Labeling
With several thousand Prairie Islander newsletters mailed every year, we need volunteers to help put address labels on each newsletter! This opportunity occurs four times a year.
Special Projects
Volunteers help with special projects from time to time. For example, database entry, bird house building, photography, or cutting out items for craft projects. Ask us about special projects to see if there is something for you!
For information or to sign up, contact Jenny Garver at 217-423-77008 or email [email protected].
Educational Outreach
Work with education staff to bring exciting programs to your community. Volunteers assist with presentations, special events, or work with the thousands of school children who visit the District each year. We will provide any necessary training. Volunteer options include:
School Programs
Workshop Presentations
Hike Leaders
For more, contact Jenny Garver at 217-423-7708 or email [email protected].
Conservation Support
Volunteers assist with projects at all of the conservation areas. You can help preserve beautiful natural areas, monitor critical bird species, and count wildlife. Volunteers are needed for projects such as:
Bluebird Trail Monitor
Throughout the spring and summer seasons volunteers monitor bluebird houses at several District sites, collecting data on the bluebird population.
Natural Area Restoration Volunteers
Help remove invasive species from District areas and protect wildlife diversity. A variety of opportunities are available throughout the year including collecting native plant seeds, pulling garlic mustard plants, and bringing the sugar maple population back under control.
Trail Monitor
Volunteers hike trails on a monthly basis monitoring condition, litter, wildlife, and trail use. Trails are located at Rock Springs, Griswold, Fort Daniel, Friends Creek, and Sand Creek Conservation Areas.
Volunteer Naturalist
Every year thousands of school children visit the District for programs and nature hikes. Volunteers are needed to lead hikes and assist staff with educational programs. Most programs take place at Rock Springs Conservation Area.
Historical Interpretation
Join talented staff in bringing Macon County history to life! Opportunities abound during history events and at historic sites, including:
Prairie Heritage Volunteer
The Homestead Prairie Farm located at Rock Springs Conservation Area is a period 1860 home used to make the days before the Civil War come to life for visitors. Volunteers help lead tours throughout the year and assist with maintenance projects such as painting, sidewalk repair, and other light mechanical projects. Stay up to date on these volunteer opportunities by subscribing to the Homestead Prairie Astounder newsletter or attending the monthly meeting.
Dulcimer Club
Volunteers come together every other week at Rock Springs Nature Center to practice playing the dulcimer instrument. This group also performs throughout the year at District events or programs, and throughout the community.
Quilting or Sewing
A group of quilters meets every Wednesday in Rock Springs Nature Center to demonstrate quilting the old-fashioned way. These volunteers also help sew period clothing for Homestead Prairie Farm volunteers. Sewing projects can be completed in your home. Volunteers will need their own sewing machine if they desire to use one.
Governor Oglesby Mansion
Throughout the year groups schedule luncheons and dinners at the mansion, and volunteers may help cook and serve the meals. Volunteers may also lead tours through the mansion for the public. These unique opportunities are a lot of fun and a chance to spend some time in one of Decatur's premier historical houses. The Governor Oglesby Mansion is located at 421 W. William St., Decatur, IL.
Ground Squirrels Vintage Base Ball Team
The Ground Squirrels play the game of base ball as it was played in 1860. The team competes against other vintage ball clubs across the region. Their home field is located at Rock Springs Conservation Area.
Youth Programs
Young volunteers can make a difference in the community, too. They'll learn about nature and our rich cultural heritage as they help with:
Summer Camps
History Programs
Environmental Programs