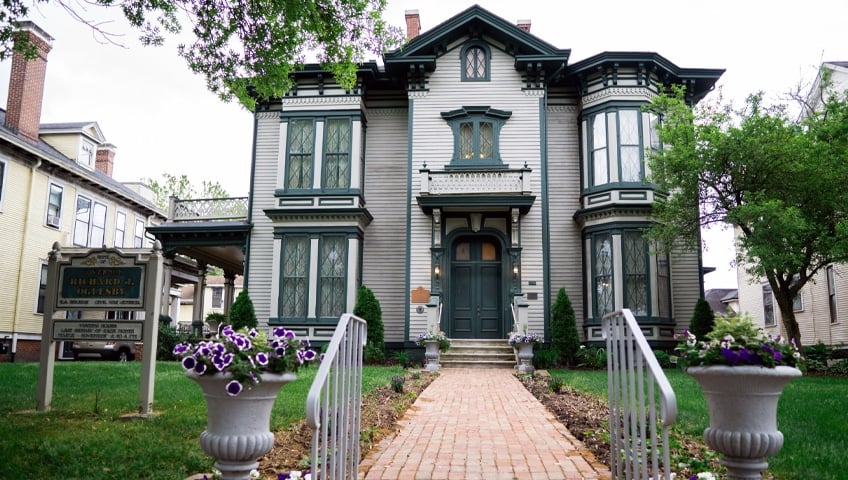 Governor Oglesby Mansion
421 W. William St. Decatur, IL
The Governor Oglesby Mansion is an 1870s Italianate style home of 3-time Illinois Governor, U.S. Senator and Civil War General Richard J. Oglesby. The mansion is open for tours every Wednesday and Saturday from 2:00 p.m. to 4:00 p.m. in June, July and August and the last Sunday of the month from 2:00 p.m. to 4:00 p.m. from March through November. Admission is $2.00.
Friend of Abraham Lincoln
Richard J. Oglesby is best known both as a friend and political ally of Abraham Lincoln. Oglesby helped form the "Railsplitter Candidate" image which put Lincoln in the national spotlight during the 1860 presidential election. Oglesby was also with Lincoln when he died in 1865 and as Governor of Illinois he lead the effort to build Lincoln's Tomb in Oak Ridge Cemetery in Springfield, Illinois. In his later years Oglesby helped preserve Lincoln's historical legacy and shape the heroic legend of Abraham Lincoln through his speeches and interviews.
The Life of Richard J. Oglesby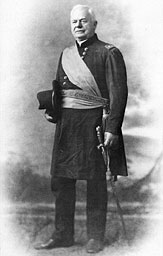 Richard J. Oglesby came to Decatur as a young orphan from Kentucky and became one of the city's most prominent and best loved citizens.
His life was filled with many accomplishments including being elected three times as Governor of Illinois and appointed a United States Senator. Oglesby made a small fortune in the California Gold Rush and also fought in both the Mexican War and Civil War eventually becoming a general.
In his family life Oglesby was a father and stepfather of several children and married again after the death of his first wife.
Read more about the life and history of Richard J. Oglesby and his family.
History and Architecture of Oglesby Mansion
Governor Oglesby had the Mansion built around 1874. The highlight of the Mansion's history is a visit by former Civil War General and United States President Ulysses S. Grant in 1880. From one of the Mansion's verandas Grant spoke to a crowd of people during a Civil War regimental reunion.
The Mansion possesses features of the Italianate style including brackets under the eaves, the low-pitched roof with belvedere (a flat deck area at the roof's center with a balustrade), bay windows and verandas. The interior features vibrant parquet wood flooring, seven fireplaces and a walnut staircase. Throughout the house are furnishings of the era including several items owned by the Oglesby Family.
How You Can Help
The Mansion depends on the dedication of a group of volunteers called "Governor Oglesby Mansion, Inc." Volunteer opportunities include being a tour guide, researching history and antiques, cooking and serving meals for events and maintaining the interior.
If you would like to become a volunteer or If you can help financially to support the restoration efforts and educational programs at the Mansion, please visit the Oglesby Mansion website or call 217-429-9422.
More Information
For more information call 217-921-0760.
To schedule a group tour please call 217-429-9422. To schedule a school group program, please call 217-429-9422.
The Governor Oglesby Mansion is available to rent for special events such as receptions, dinners and weddings. Please call 217-429-9422 for more information.
Visit the Governor Richard J. Oglesby Mansion Website for more historical information on the Governor & his family, tour and rental information, how you can get involved and an events schedule!