X-Treme Camp
Children Ages 10-15
Older children enjoy a full day of outdoor activities during X-treme Camp. This summer, we're adventuring in and out of the county as we enjoy activities like cave exploration, a creek walk, and more.
Camp will be held select Wednesdays in the summer. Campers should meet at Rock Springs Nature Center at the designated time. Bring a sack lunch. A fee of $35/camper for in-county camps or $60/camper for out-of-county camps covers all activities. Pick and choose which weeks to attend, or join us for all of them.
Space is limited to 12 campers each week and camp activities are subject to change.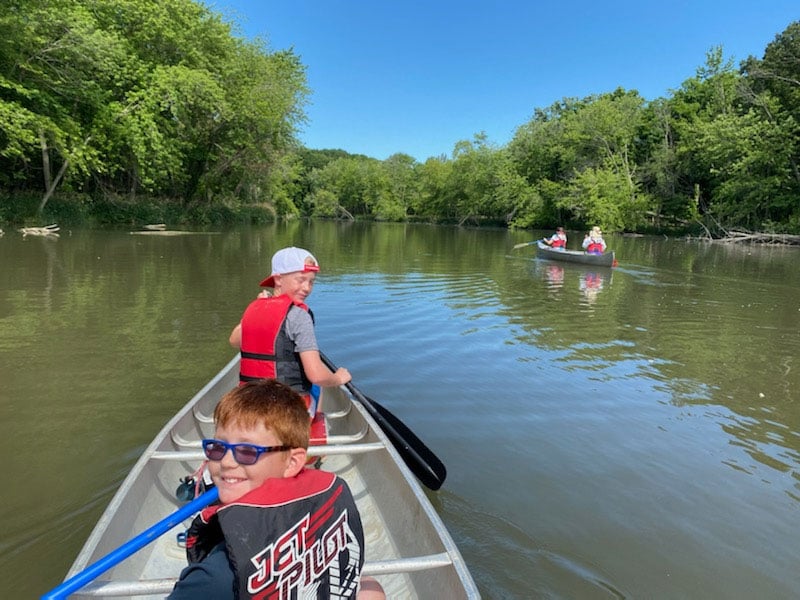 2023 X-treme Weekly Camps
Register Online
Survival Skills
Wednesday, June 14, 9am-4pm
Spend the day at Friends Creek Conservation Area in Argenta, IL, learning how to pitch a tent, make a shelter out of branches and leaves, basic first aid skills, hiking, and then try your hand at archery. Campers will need to bring a lunch and wear long pants and sturdy shoes. $35/camper.
Register Online
Register Online
Creek Walk
Wednesday, June 21, 9am-3pm
Spend the day walking through a creek at Rock Springs Conservation Area. Campers will have nets to catch wildlife that live in the creeks, see animals that live along the creek, and enjoy nature from a different setting. Bring a sack lunch, shoes that can get wet, a towel, and extra clothes to change into at the end of the day. $35/camper.
Register Online
Register Online
Exploration of Illinois Caverns
Wednesday, July 19, 6:30am-5pm
Venture into the Illinois Caverns in Southern Illinois, located near Waterloo, where we will explore a "wild" cave. Be prepared to get muddy and wet. You will need to wear sturdy shoes and bring a change of clothes, a towel, and lunch. Campers will also be required to attend a meeting on Thursday, July 13th at 5:30pm to meet our guide for the cave exploration and receive further information. $60/camper.
Register Online
Register Online
Gem Museum and Clinton Lake
Wednesday, July 26, 8:30am-4:30pm
Visit the Funk's Grove Gem Museum in Shirley, IL for a tour of fossils, gems, and element rocks. We will then eat lunch at the Sugar Grove Nature Center and finally proceed to Clinton Lake to swim the rest of the day. Campers should bring a lunch, swimwear, and a towel for Clinton Lake. $60/camper.
Register Online
Need more information? Call (217) 423-7708 or visit the Camps page.