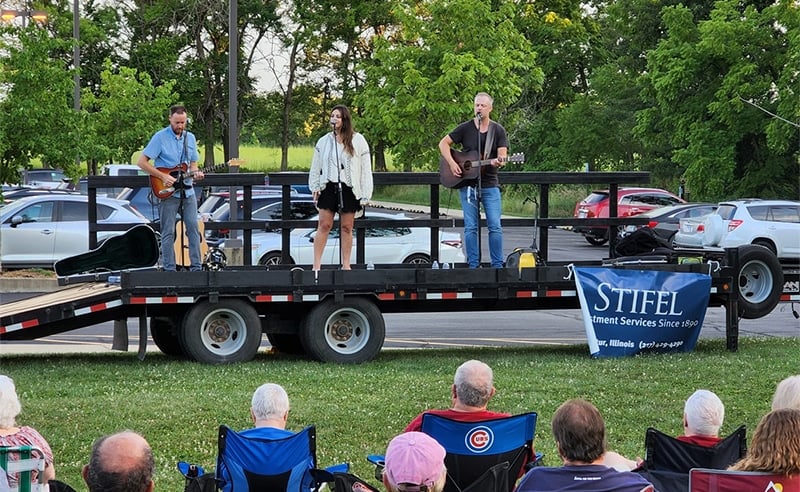 Summer Concert Series at Rock Springs Nature Center
Our 7th annual Summer Concert Series is back and better than ever this year, and we can't wait to listen to some great music with you!
This outdoor concert series sponsored by Stifel Investment Services is held every other Sunday in the summer, and features a variety of bands and performers that play Americana, bluegrass, folk, old-time, and more. Bring a lawn chair or a picnic blanket and enjoy some great music in the great outdoors!
This year's series kicks off on June 4 with our friends Cactus Ranch, who have opened the series every year so far. They will play some country and bluegrass tunes and set the tone for the rest of the summer.
On June 18, Celtic Whistle will take the stage again to delight us with some Irish music and lovely harmonies, complete with flutes, accordions, and banjos.
New to the series, on July 2 Taylor Steele and the Love Preachers will take the stage. This five-piece band has played all over the state of Illinois, and with Taylor's soulful voice and the group's Americana roots, you won't want to miss this one.
Good Morning Bedlam, another new group to Rock Springs, will play on July 16. This folk group has toured throughout the Midwest and is sure to impress with their lyrical storytelling and energetic stage presence. Be sure to check this one out.
On July 30, our friends The Tangents will join us for an evening of acoustic music. This group is a fun one, with an eclectic sound and crowd interaction.
And finally, on August 13, the Hood Family Band will stop by to close out the series with folk, Americana, and bluegrass tunes, complete with beautiful harmonies.
Each performance begins at 7pm and will be held near the pavilions at Rock Springs Conservation Area. Snacks will be available for purchase. All concerts are free, and in the event of rain, we will move indoors.
We are so excited about this year's lineup, and we hope to see you there!
Summer Concert Series Lineup