Rock Springs Conservation Area in Decatur, IL
Rock Springs Conservation Area is home to a Nature Center with art & exhibits, a Window on Wildlife, and hands-on programs for the whole family. Pavilions, cross-country ski rentals, over nine miles of trails, and a restored 19th century farmhouse are just a few of the features which make Rock Springs Conservation Area a great place to explore year-round.
Rock Springs Conservation Area and Nature Center are located at 3939 Nearing Lane in Decatur, IL [get directions]. Rock Springs GPS Coordinates are: 39.817713 N, 89.00932 W
Rock Springs Nature Center is located on the southwestern edge of Decatur, Illinois. To get to Rock Springs Conservation Area from Decatur go south on Route 48 and turn right onto Rock Springs Road. Watch for signs. Plenty of free parking is available.
Things to Do at Rock Springs Conservation Area
Whether you're a family looking for a day of fun, or an educator in search of excellent outdoor programming, Rock Springs Conservation Area offers many recreational opportunities and programs throughout the year. Some of the things we offer include: summer camps, guided hikes, workshops, living history programs, music, and displays by local artists. You can also explore Rock Springs Conservation Area on your own. People of all ages may fish the ponds and the Sangamon River. The trails are suited for walking, hiking, wildlife viewing, and cross country skiing (when weather permits). Bicycles are welcome on the Bike Trail.
Rock Springs Hiking Trails
Rock Springs Conservation Area Trails
| | | | |
| --- | --- | --- | --- |
| Trail | Distance | Time | Level |
| Prairie Path | 0.25 mi | 10 min | Easy |
| Discovery Trail | 0.33 mi | 20 min | Easy |
| Bluestem Loop | 0.5 mi | 20 min | Easy |
| Rodney T. Miller Wetland | 0.25 mi | 10 min | Easy |
| Woodland Trail | 0.5 mi | 20 min | Moderate |
| Big Oak Loop | 1.3 mi | 1 hr | Moderate |
| Lookout Trail | 1.25 mi | 1 hr | Moderate/Difficult |
| River Trail | 3.2 mi | 1.5 hrs | Difficult |
| Bike Trail | 2.25 mi | 1 hr | Moderate (Paved) |
The Prairie Path is a quarter-mile trail just off the nature center parking lot. Leads to Homestead Prairie Farm.
The Discovery Trail is a one-third mile trail that winds through the woodland west of the nature center. Watch for deer and other forest wildlife.
The Bluestem Loop, a half-mile trail just west of the pine forest. This trail winds through prairie grass and wildflowers.
The Woodland Trail is a half-mile trail that runs up and down hills through the woods. A good place to see deer, owls, woodpeckers, and other forest wildlife.
The Big Oak Loop is accessible from the Bluestem Loop. This path travels through woods and open land, connecting to the River Trail.
The Lookout Trail is 1.25 miles beginning at Homestead Prairie Farm and running through prairie and forest.
The Bike Trail is a paved, ADA accessible trail linking Rock Springs Conservation Area to Fairview Park. The Bike Trail is 3.75 miles from start to finish (Rock Springs to Fairview Park/Fairview Ave.).
The River Trail, at 3.2 miles, is the longest trail at Rock Springs Conservation Area. It passes through deciduous forest, the Turtle Ponds, and historic Rock Spring Bottling Plant.
The Rodney T. Miller Wetland has a 0.25 mile trail that begins at the parking area located just east of the Nearing Lane main entry to Rock Springs Nature Center. This trail provides benches, interpretive stations, and overlooks to view the wetland.
Rock Springs-Fairview Bike Trail
Bike Trail Hours: 7 a.m. to sunset
Trail Closures: Call the District's trail condition hotline at (217) 421-7493 for a message on current trail conditions or closures.
This bike trail connects Rock Springs Conservation Area, Fairview Park, and Kiwanis Park with a paved, 3.74 mile, 10-foot wide, handicapped accessible trail for hiking, bicycling, dog walking, roller blading, running, walking, and more.
The trail begins off Nearing Lane, in front of Rock Springs Nature Center, and ends at N. Fairview Ave. inside Fairview Park.
The trail guides you through a pine forest, reconstructed prairie, deciduous woodland, and by pond, river bottom, and wetland habitats. You can discover a wide variety of wildlife, trees, and flowers. Be sure to stop at the interpretive stations located along the trail. They will aid you in understanding the habitats you visit.
The 2.25 mile Rock Springs segment of the Bike Trail was developed by the Macon County Conservation District and increases access to and from Rock Springs Nature Center. The trail meets Americans with Disabilities Act specifications.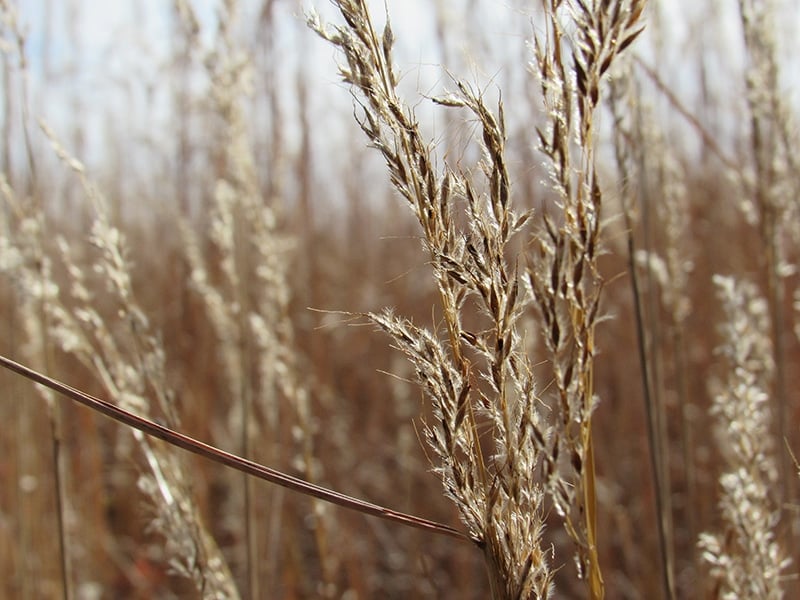 Illinois Prairie Restoration at Rock Springs Conservation Area
The prairie is part of Illinois' heritage, past and future. It provides protection and food for many birds, animals, and insects who depend on the prairie as a life source. In addition, it prevents erosion, enriches the soil, and beautifies the Illinois landscape.
Originally the site was forested then converted into farmland in the early 1800s. In 1979, Rock Springs Conservation Area started creating a prairie restoration on the abandoned field. Staff planted and drilled the seed with a native grass drill. The District burns the prairie in the spring annually to biennially.
Rock Springs Conservation Area was acquired in 1969 by Macon County Conservation District. Prairie restorations, totaling ca. 26 acres, were established on former farmland starting in 1979. Several tracts were developed as prairie restorations of different ages. No single species was dominant on all four tracts (1979, 1981, 1983, 1986), although grasses (switch grass, indian grass, little bluestem, prairie dropseed, and big bluestem) were dominant or co-dominant on one or more sites.
The Sangamon River
Dipping a paddle into its current or glimpsing a great blue heron skimming its surface makes it easy to see why the Sangamon River is one of the jewels of the Macon County Conservation District. During its 1 ½ mile course through Rock Springs Conservation Area, the river flows through woodlands of upland oak and hickory and floodplains of maple and willows, providing food, shelter and nesting spots for a wide variety of wildlife.
Bass, bluegill, crappie, and the primitive longnose gar swim in its waters. Beaver, mink and muskrats thrive in the varied habitats of the river's ecosystem. Wood ducks, little green herons and kingfishers are just a few of the birds that ply the river for food.
Rising in McLean County, the river runs some 240 miles westward through Central Illinois and joins the Illinois River near Beardstown. The river has coursed through the history of the region's people, too, providing drinking water, food, irrigation, transportation, and recreation.
Rock Springs Pine Tree Forest
This five acre pine plantation contains red and white pines. The trees were planted in the early 1960s as part of a land program. 5,000 white pine and 5,000 red pine were planted.
Few plants grow under the pines due to the deep shade year round. The only evergreen tree native to Central Illinois is the eastern red cedar, which was used by some settlers as Christmas decorations.
Owls roost in the pines during winter because the evergreen branches provide a windbreak after the trees of the hardwood forest have lost their leaves. Hawks, blue-jays, kinglets, crows, squirrels, and insects also use the pine forest. Deer and other animals occasionally visit, but they find little cover in which to hide.
Take a deep breath before you leave and enjoy the cool, fragrant air. The pines are refreshing year round, and numerous animal tracks are easy to spot during the winter.
Rock Springs Ground Squirrels Vintage Base Ball Club
The Ground Squirrels are Rock Spring's Vintage Base Ball Club – an educational program of the Macon County Conservation District founded in 1993. They play all summer long at home on BeautifulTrobaghField and as visitors against other teams in Illinois, Indiana, Missouri, and Ohio. See the base ball schedule here.
The friendly confines of BeautifulTrobaughField have hosted the team nine's home games and the field is perhaps one of the truest representations of an 1860-era field in the modern game of vintage base ball. The field takes its name from founder, Lee Slider's alter ego, Joseph Trobaugh, proprietor of Homestead Prairie Farm, a National Register of Historic Places site located just a short walk from the ball field.
Read more about the Rock Springs Ground Squirrels Vintage Base Ball Club.
For more information, call Rock Springs Nature Center at (217) 423-7708 or visit the Rock Springs Ground Squirrels Facebook page for full event schedule, photos, and more.
Pavilion Rentals for Picnics, Reunions, Birthdays and More
Are you planning a birthday party, family reunion, or company picnic? Reserve a pavilion to make your outdoor event special. The Macon County Conservation District has outdoor pavilions available for groups small and large, accommodating up to 112 people. Pavilions include tables, grills, water, and restroom facilities.
Rock Springs Trust Course
The Team Trust Course offers organized groups a unique environment to enhance their skills at tackling problems in school, the work place, and life in general. Facilitators lead groups of all ages through the various physical challenges of the course in order to develop group cooperation and problem solving skills.
Fees and schedules vary. For more information or to schedule your group, call 217-423-7708.
Sangamon River Mill
Shortly after arriving in Macon County, pioneers built mills to grind their harvests of grain. Miller's Mill was one of the first. The mill and its dam were probably built between 1836 and 1839 on land that was bought by members of the Miller Family and Elisha Freeman in 1836. It is not known how long the mill operated, but by 1902 only the dam remained. Archaeological searches found metal and wooden pieces of the mill and dam in the riverbed. These artifacts confirm the location of the mill and dam, and give clues to their probable designs.
Like today, the Sangamon River in the 1800s was shallow and flowed slowly except during floods. Due to this, the mill needed a dam that could accommodate shallow water and low riverbanks. The dam was made by staking large pieces of timber to the river bottom anchored by large rocks. This dam formed a long millpond upriver to power the mill's water wheel which in turn spun the millstones to grind grain. Most "low head" or shallow river mills in Illinois used a tub waterwheel which spun horizontally like a merry-go-round.
Today Miller's Mill is gone but when the river is low, you can see traces of its dam. Any time of year is a great time to visit the Miller's Mill Overlook by taking a hike along the River Trail. At the overlook you will find a bench to relax and a kiosk with more information about the mill.
Fishing at Rock Springs Conservation Area
Enjoy fishing in the many ponds through the Macon County Conservation District conservation areas. Fishing is permitted in the Sangamon River and five ponds near Rock Springs Nature Center: two Cattail Ponds, the Bike Trail Pond, and Turtle Ponds. There is parking near the Cattail Ponds. The Bike Trail Pond can be accessed with a short walk from Rock Springs Nature Center on the Bike Trail. The Bike Trail Pond is handicapped accessible. The Turtle Ponds can also be accessed from the Bike Trail and are approximately 1 mile from Rock Springs Nature Center.
Ponds are stocked with largemouth bass, bluegill, channel catfish, red ear sunfish, walleye, and crappie. The larger Cattail Pond is stocked by the Illinois Department of Natural Resources with trout in the fall.
Rods and reels are available to borrow for free on a first-come, first-served basis inside Rock Springs Nature Center. Just ask a volunteer at the Information Desk.
State laws apply and special regulations are posted at the site. An Illinois Fishing License is required for those over 16.
Canoeing at Rock Springs Conservation Area
Enjoy the peaceful serenity of the Sangamon River that travels through Rock Springs Conservation Area. Bring your own canoe and personal flotation devices. Canoes are not provided by the Macon County Conservation District.
Canoeists can load or unload canoes/kayaks to gain access to the river from two canoe access areas near Rock Springs. A Sangamon River canoe access area is located just north of the Wyckles Road Bridge on the west side of Wyckles Road. Parking is provided. The Decatur Park District manages a put-in site located just below the low-head dam on Lake Decatur.
Please remember to follow all state rules and regulations regarding the use of boats/canoes on the river. The access may be closed due to flooding. Check the home page of this website for closures.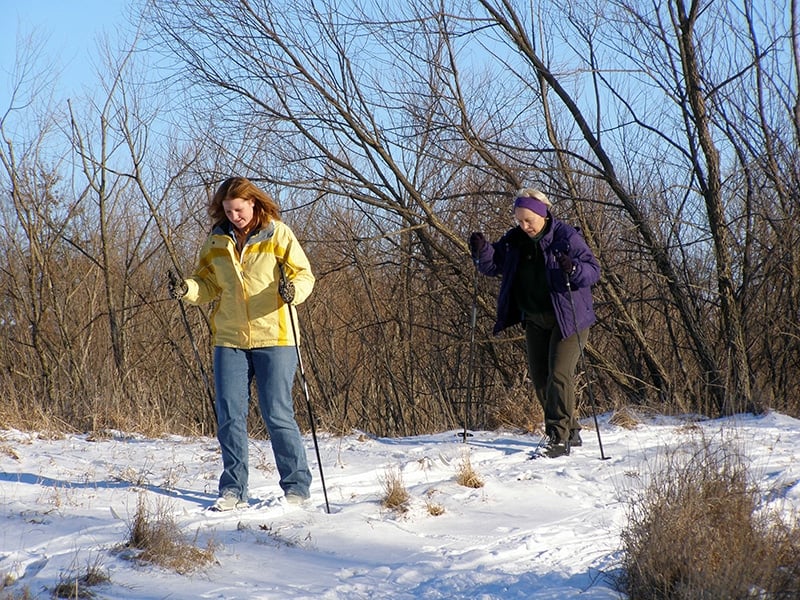 Rent Cross-Country Skiing Equipment at Rock Springs
Cross-Country Ski Rental Fees
$8.00 for 2 Hour Rental
Includes skis, boots, and poles.
$20.00 for 24 Hour Rental
Includes skis, boots, and poles. Twenty-four hour rentals may be taken off-site.
*Equipment available on a first-come, first-serve basis.
Rock Springs Nature Center offers cross-country skiing for ages 5 and up. There are trails for novice and experienced cross-country skiers. Four or more inches of snow is required for cross-country skiing and snowshoeing. If in doubt, call 217-423-7708 to find out if conditions are favorable for cross-country skiing.
>> Map of Ski trails at Rock Springs Conservation Area